EE was born out of Orange and T-Mobile, and now claim to be the biggest network in the UK, as well as the provider of the fastest 4G speeds. Pitching themselves head on against Three as the mobile network of choice for internet use, they're now offering much stronger pay as you go deals than they did back when they were operating separately as Orange and T-Mobile.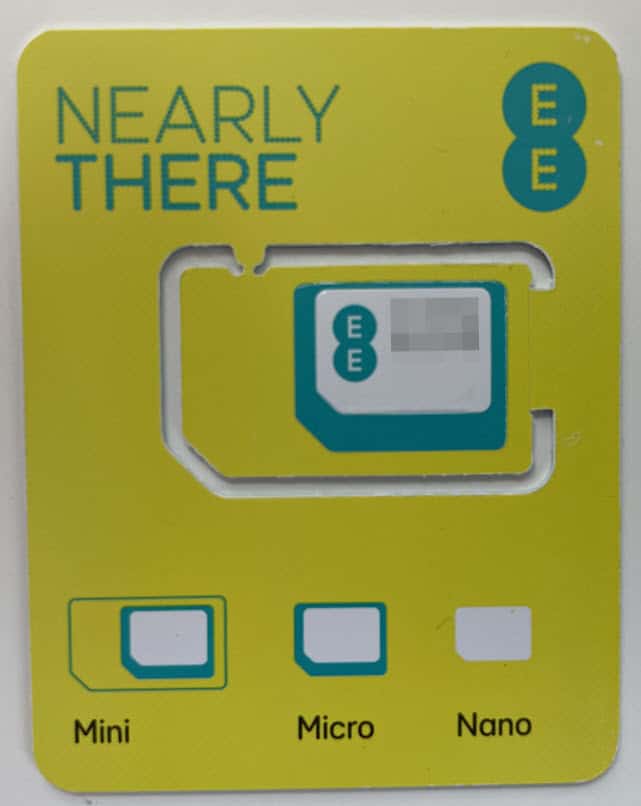 EE's pay as you go package places great focus on their strength as a 4G network, which a simple set of tariffs to choose from based around your usage. Having said that, at the time of writing it appears that there are a few mistakes on their website, so we've done our best to dig into the terms and conditions to establish what the correct details are!
First of all, the main tariff they push is the 'Everything Packs'. These are designed to be an even spread of phone call minutes, text messages and data to use as you wish.
So, as you can see, this pack runs for 30 days at a time, and is funded by £10 worth of credit from your phone. For that tenner, you get 150 minutes worth of calls, which includes landlines and mobiles, along with half a gigabyte of data and unlimited texts. If you get to the renewal date and don't have enough credit to complete the next month's top up, you'll be notified (presumably by text) so that you can top up and avoid accidentally being billed per minute, per text or per megabyte.
So, that's the straightforward option out of the way, the remaining two are where it gets a bit more complicated. There's a 'Talk and Text Pack' and a 'Data Pack' which are shown as follows:
Now, there's a couple of things that immediately confused me here at first look, and the first is why one renews monthly and the other weekly. Does anyone really want to sign up for a £10 a week (£40ish a month) pay as you go plan? Secondly, I wouldn't expect a data plan to come with one-five-hundredth of the data of the standard 'Everything Pack'. I can only assume that the marketing department at EE were having a bad day, and they're yet to respond to my email asking for clarification.
So, for now, here's what I think they should say. Also on the order page, there's the following section:
At first, I thought this was the error, but actually I suspect this is actually correct, and they are offering bundles for £1. While the above packs are all advertised at the £10 rate, once you get into he order process, the £10 Talk and Text/Data packs are nowhere to be found:
So, here's what I think the deal is – but please be aware that this might be entirely correct, partially correct or completely wrong.
There are three main types of packs:
Everything Packs for general users wanting calls, texts and internet use;
Talk and Text Packs for people that don't call much but like to text and surf the web;
Data Packs for customers that use their phones for heavy web access.
Each pack then has a set of variations, depending on how much you want to spend and/or whether you want it to run weekly or monthly.
EE Everything Packs come as follows:
| Price | Minutes | Texts | Data | Cycle |
| --- | --- | --- | --- | --- |
| £10 | 150 | Unlimited | 500Mb | 30 days |
| £15 | 500 | Unlimited | 2Gb | 30 days |
| £25 | 1000 | Unlimited | 4Gb | 30 days |
EE Talk and Text Packs come as follows:
| Price | Minutes | Texts | Data | Cycle |
| --- | --- | --- | --- | --- |
| £1 | 25 | 50 | None | 7 days |
| £10 | 250 | Unlimited | None | 30 days |
| £15 | 750 | Unlimited | None | 30 days |
EE Data Packs come as follows:
| Price | Minutes | Texts | Data | Cycle |
| --- | --- | --- | --- | --- |
| £1 | 10 | 10 | 100Mb | 7 days |
| £10 | 50 | 50 | 1Gb | 30 days |
I'm fairly confident that the data in the tables is correct, as this is clearly laid out elsewhere on EE's site. It appears it's the order form that has the errors, so just be clear when you go to order them. Your three options should be fine, just choose the type of pack you want as you can change between them once you have your sim.
To change between the packs, you won't necessarily need a new sim card. You can log into your account on the EE website, and visit the my account section. Alternatively, if your phone has the My EE app available (which most do) you can do it there, or finally send a text which just says "ALL PACKS" to 150 and you'll be able to follow the instructions to get the pack you want. Alternatively, you can switch directly using the following codes:
| Pack | Code |
| --- | --- |
| EE Everything £10 | EP10 |
| EE Everything £15 | EP15 |
| EE Everything £25 | EP25 |
| EE Talk and Text £1 | TTP1 |
| EE Talk and Text £10 | TTP10 |
| EE Talk and Text £15 | TTP15 |
| EE Data £1 | DP1 |
| EE Data £10 | DP10 |
There's a few extra things worth mentioning about pay as you go on EE too, such as the fact that the Everything Packs at £15 and £25 benefit from the use of the data at the double speed 4G if you're in a location where it's available (and you have a 4G compatible phone. Also, if you regularly buy your packs, you'll qualify for bonus minutes, texts and data, if you've maintained packs continuously on your phone for three months.